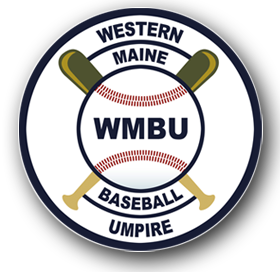 WMBUA MISSION STATEMENT

: ​The mission of the Western Maine Baseball Umpires Association is to develop high standards in our National Pastime through character and citizenship and encourage good, clean competition. To promote the welfare of the game of baseball, its players, and umpires. To provide the highest standard of baseball umpiring. And to study the administration and revision of the rules, particularly from the viewpoint of the umpire.
​​​​​​​​​​​​​​​​​© 2018 Western Maine Baseball Umpires Association
For more information please contact Rick Meinking at wmbua@outlook.com​​​​​​​​​​
The New Member Clinics, Mechanics Clinic, Rules Clinics, Exams and Business Meetings are held at Gorham Middle School; 106 Weeks Road; Gorham, Maine.
NOTICE: All WMBUA members MUST attend at least one of the three regularly scheduled business meetings each year.

Purchase Officials is the official supplier to WMBUA. Mention your membership in WMBUA and get free shipping.
Make sure that you un-block any dates for which you are now available. This time of year it is important that all umpires who can work games let the assignors know.
Even with 100 active members in WMBUA, we're stretched pretty thin on some days. Make sure the Assignors know you're available if you can work any given day.​
2016 Harrington Award Winner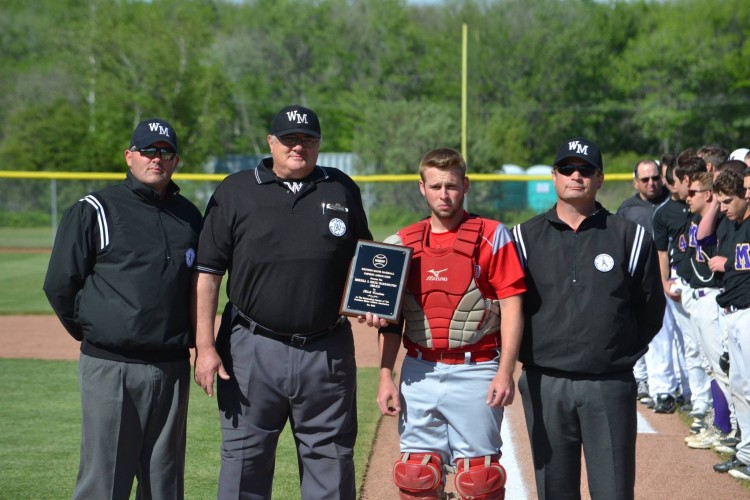 Field Clinic's
All members are required to attend ONE Season Field Clinic.

The final clinic has been rescheduled for Sunday, May 27,, 2018 starting at 6:00pm

. The location will be at the

Gorham Middle School


Kevin will be going over the 3-Man system in preparations for the High School Playoffs. All members are invited to attend.


IMPORTANT NOTICE
(May 26, 2017)


The Game Turn-back Rule will be in effect beginning June 1, 2017. Now is the time to ensure your availability is up to date in the Arbiter. For more information regarding the "Rule"



CLICK HERE
Live Plate Clinic


Edge Academy has announced their dates for the live pitching and hitting sessions on Wednesday nights for us to get plate work in. Starting Jan. 31 and continuing Feb. 7,14, 21 and 28, with the last one on March 7. Please email Kevin Joyce (

bigumpkevin@yahoo.

com

) with your availability.