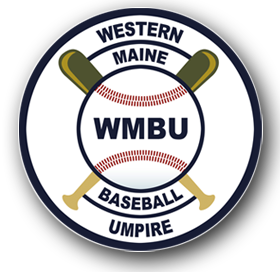 WMBUA MISSION STATEMENT

: ​The mission of the Western Maine Baseball Umpires Association is to develop high standards in our National Pastime through character and citizenship and encourage good, clean competition. To promote the welfare of the game of baseball, its players, and umpires. To provide the highest standard of baseball umpiring. And to study the administration and revision of the rules, particularly from the viewpoint of the umpire.
​​​​​​​​​​​​​​​​​© 2019 Western Maine Baseball Umpires Association
For more information please contact Rick Meinking at wmbua@outlook.com​​​​​​​​​​
The New Member Clinics, Mechanics Clinic, Rules Clinics, Exams and Business Meetings are held at Gorham Middle School; 106 Weeks Road; Gorham, Maine.
NOTICE: All WMBUA members MUST attend at least one of the three regularly scheduled business meetings each year.

Purchase Officials is the official supplier to WMBUA. Mention your membership in WMBUA and get free shipping.
Make sure that you un-block any dates for which you are now available. This time of year it is important that all umpires who can work games let the assignors know.
Even with 100 active members in WMBUA, we're stretched pretty thin on some days. Make sure the Assignors know you're available if you can work any given day.​
2016 Harrington Award Winner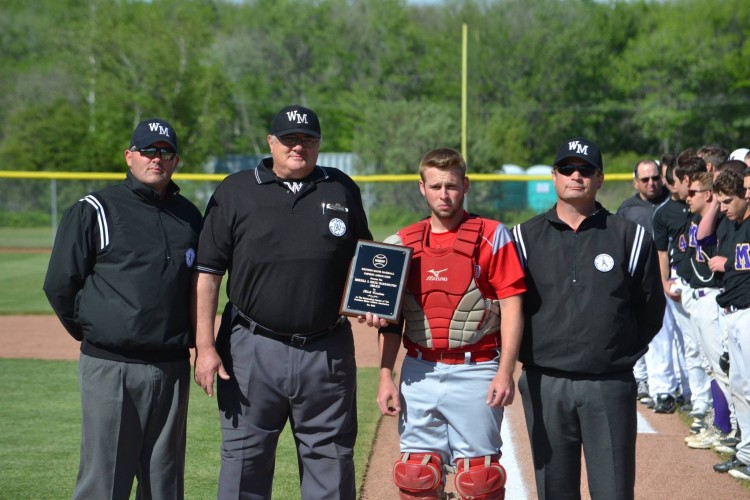 (Slides from Annual Meeting)
2019 Member Business Meetings

All members are required to attend ONE Business Meeting each season. The 2nd meeting for 2019 is scheduled for May 19, 2019 at the Gorham Middle School starting at

5:30pm

.

IMPORTANT NOTICE
The Third (and final) of three Season Clinics

(All members must attend ONE)

will be held Sunday, June 2, 2019 from 6:00pm until 7:00pm at the Thornton Academy Baseball Complex.
If you would like to order any uniform or equipment items you will need to place your order by March 17, 2019. I will be placing orders for the new members on March 18th to ensure they have the items prior to the start of exhibition games.

For those that don't need items right away, I will accept orders until March 24, 2019 to ensure delivery by the first field clinic (April 28th)
Prices includes the MPA patch (sewed) on shirts and jackets